you need to set 'permissions' to be able to write to the file.
in UNIX terms this is called CHMOD and the 775 means read and write for all, execute for owner and group.
this can be done with most FTP programs, by selecting the directory's 'properties' or 'info' or something
check your FTP program's help to see how to set permissions.
the ftp command is: ftp> chmod 775 posterdata.dat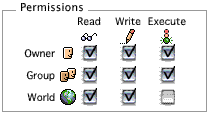 screenshot from Transmit for Mac.